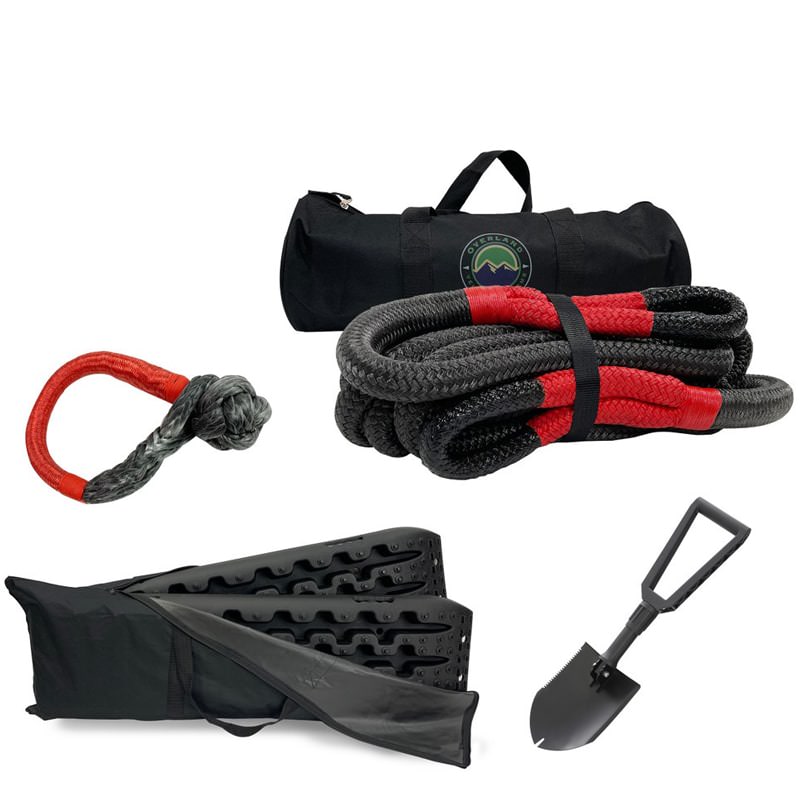 Overland Vehicle Systems Ultimate Recovery Package
Description

Shipping & Returns

Why Buy From Us
Power and Precision With The OVS Ultimate Off-Road Recovery Package
There's something undeniably electric about venturing into the wild unknown, right? The rush of the wind, the heartbeat echoing the roar of the engine, and the thrill of the chase as you tackle the most challenging terrains known to humankind. Every off-roading enthusiast or overlander knows that every adventure is a tale waiting to be told. But even the mightiest of explorers like you can sometimes find yourself in a bind, and that's when you wish you had ventured out with your reliable recovery equipment.
What's Included
Avoid the headaches! - Everything you need is included with the Overland Vehicle Systems Ultimate Recovery Package and more!
1x 1" x 30' Brute Kinetic Rope
1x 5/8 Soft Shackle
1x Multi-Functional Military Style Utility Shovel 
1x Nylon Carrying Case
2x Recovery Ramps
Limited Lifetime Warranty
Ships in 1-3 Business Days
30-Day No Stress Returns
FAST & FREE SHIPPING To The Lower 48 States
Rope In the Wildest Adventures With the Brute Kinetic Recovery Rope
Picture this: an untouched muddy expanse stretching as far as your eyes can see. Your rig is revving, eager to dive into the challenge, but alas! A slip, a slide, and you're stuck. But wait! With the Brute Kinetic Recovery Rope at your side, you've got a fighting chance. This isn't just a rope; it's 30 feet of pure adventure aid, crafted from secure double-braided nylon with an abrasion and UV-resistant coating that's seen the world and lived to tell the tale. 
Its power is evident in its stretch - a whopping 30%, reduces damaging impact loads on both vehicles, making it your go-to sidekick for the toughest pulls in deep mud, snow, sand, and any other recovery situation that needs more than a standard tow strap. And with a Herculean breaking strength of up to 30,000 lbs, it's not just a rope; it's a promise of countless adventures to come. The high visibility red loops increase safety and easy handling, and all of it safely tucks away in the weather-tested bag, so it's always ready to go on the next big adventure.
5/8 Soft Shackle
Saying that the OVS Soft Shackle is a game-changer would be an understatement. Just like all soft shackles from OVS, the 5/8 is constructed using Dyneema, a low-friction fiber, that allows for a braided synthetic line to run easily through the soft shackle, meaning you often can get away without using a traditional snatch block for applications where standard recovery isn't enough. 
The strength of Dyneema is unparalleled. It is so strong that an equivalent wire rope would be three times as thick, and a top-quality stainless steel shackle with a 3/4-inch pin would have less than half the breaking strength. OVS's soft shackles can handle just about every function performed by a metal shackle, and in many cases even better.
It's not just about brute strength; the soft shackle articulates better, ensuring no rattling or bumper damage. They are easier to undo, and you never have to deal with pins that have fallen out in the middle of a trail, as with traditional steel shackles. Its gray 5/8" diameter UV-stable synthetic rope construction, combined with an abrasive protective sleeve, guarantees maximum protection. With a breaking strength of 44,500 lbs and a working load of 15,000 lbs, this tool is primed to handle any recovery situation. And as with all Overland Vehicle Systems products, it comes with a limited lifetime warranty. 
Wield the Power with the Military-Style Utility Shovel
In the world of exploration, versatility is key. And what's more versatile than a shovel ready to dig, trench, and stand by your side as you carve your path through the wild? Crafted with the formidable #50 Boron Steel, which is stronger and lighter than regular carbon steel shovels, this shovel doesn't just dig; it makes a statement.
Compact yet mighty, the lightweight 7075 aluminum shaft and the shovel's serrated edge are perfect for those moments when nature challenges you, and you're ready to respond by sawing or whacking brush. This shovel is designed for abuse!
Heavy Duty Recovery Ramps
When the journey gets tough, the tough get the OVS Recovery Ramps. As an off-road adventurer, you understand the need for reliable equipment, and these Recovery Ramps ensure you're never stuck in a tough spot.
What sets them apart? A unique and durable nylon injection process that allows each ramp to bear a load of up to 10,000 lbs. The state-of-the-art spikes offer unmatched traction, ensuring you pull out of any sticky situation. And to ensure your ramp stays as rugged as the first day, they fit inside the water-resistant storage bag that comes included with the OVS Ultimate Recovery Package.
Gear Up And Go Wild With The Limited Lifetime Warranty
The heart of an explorer beats with passion, curiosity, and a dash of wildness. But it also beats with wisdom. That is why OVS offers a limited lifetime warranty on its Ultimate Recovery Package, so you can feel confident that this comprehensive recovery kit does not let you down when you need it the most.
Embark on a Journey with the Essential Recovery Companions
With this top-notch Ultimate Recovery Package, you're not just preparing for an expedition; you're gearing up for a lifetime of stories, experiences, and memories that you'll cherish forever. And with the right tools by your side, there's no trail too challenging, no terrain too tough. So, buckle up, rev that engine, and let the grand off-roading odyssey begin! Order yours online today! 
Product Specifications
Feature
Specifications
Brute Kinetic Recovery Rope:
Dimensions: 1" thick x 30' long. Material: Specially coated nylon. Breaking strength: 30,000 lbs. Stretch: 30% Features: Abrasion and UV-resistant, suitable for mud, snow, and sand.
Recovery Ramps:
Material: Durable nylon mixture. Manufacturing: Nylon Injection process. Features: State-of-the-art spike design, UV protection, U-shape design traction pattern, Cruciform Grip Ground design. Load Capacity: Up to 10,000 lbs.
5/8 Soft Shackle:
Diameter: 5/8" Material: Dyneema UV-stable rope. Breaking Strength: 44,500 lbs. Working Load: 15,000 lbs. Length: 23" with a 3-inch Class 2 Diamond Knot. Features: Protective sleeve
Utility Shovel:
Finish: Black Powder Coat. Length: 22.75" (extended), 9.25" (collapsed) Spade: 8.25" x 6.1" with 

Roll Edge on Rear and Side For Added Strength.

Material: Boron Steel spade, 7075 aluminum shaft, 

glass-filled nylon reinforced handle with locking collar

 Features: Adjustable spade with serrated edge.
Warranty:
Limited Lifetime Warranty
FAST & FREE SHIPING to the lower 48 states
We don't mess around with fine print and extra charges. Instead, we like things to be simple and easy for you.
Read more about the terms and conditions that apply in our Shipping Policy
30-Day Easy Returns
As experienced Overlanders, we fully understand that things do not always go according to plan.
That is why we offer you our "No Questions Asked" 30-Day Return Policy, so you can get back on the road for more adventures in a heartbeat.
Read more about the terms and conditions that apply in our Easy Returns Policy
We get it. You've got a lot of choices when it comes to online retailers, so why should you even bother spending your hard-earned bucks shopping with us?
Here are four short reasons why Open Road Overland is not like the rest of the bunch and why we believe that your shopping experience with us is not only 100% safe, but will also exceed your expectations, so you come back for more and maybe even bring your friends.
REASON #1: 100% SAFE & SECURE ONLINE SHOPPING
We use encrypted SSL security and are Level 1 PCI DSS compliant to ensure that your credit card information and every transaction on our website are 100% protected.
REASON #2: DRIVING THE WORLD SINCE 1998
We started overlanding in 1998, way before overlanding was even a term. Since then we have spent the last 25 years zig-zagging the planet trail testing the types of equipment you find in our store. In other words, we learned the hard way what works and what doesn't, through hands-on experience during our own adventures on 6 continents (yes, we still haven't made it to Antarctica). To ensure that we add value to your adventure with the products you shop with us, our policy is that nothing goes on our website before it has been thoroughly reviewed. This means that you will not find anything in our store that we would not bring along our use on our own overland adventures.
REASON #3: WE HAVE DRIVEN ALMOST EVERYTHING
Secondly, we have been driving almost any type of vehicle you can think of over the years. This means that we have acquired a strong skill set to answer any question you have concerning your own vehicle setup, no matter whether you drive a standard passenger car, a pickup truck, or a fully rigged 4x4 overlanding vehicle.
REASON #4: WE WANT EVERYBODY TO GO OVERLANDING
Thirdly, we strongly believe and promote that overlanding should be accessible to everybody, no matter what you drive, or what level of experience you have. That means that we can guide you as a novice overlander just starting out, as well as giving advice to you as an ultra pro with years of bushwhacking behind the wheel. That's why you will also see both entry-level products, as well as top-of-the-line gear on our site, so we can cater to everybody looking to elevate their own overland adventures. No matter what, you can rest assured that the products you find in our store are here because they do the job they were made to do.
WHAT ELSE DO I GET?
Apart from the above we of course also provide you with:
Free Shipping to the lower 48 states, with no extra charges. Ever!

Price Match Guarantee. Best prices online, guaranteed.

30-Day Easy Returns. Not happy with your product, we'll take it back no questions asked, and without charging you ANY restocking fee. Ever!

Great Service. We pride ourselves on the best service, anywhere.

Your Satisfaction Guaranteed. We handpick our products for quality to make sure you will love using them on your own adventures. But if there is ever something wrong, we'll fix it.