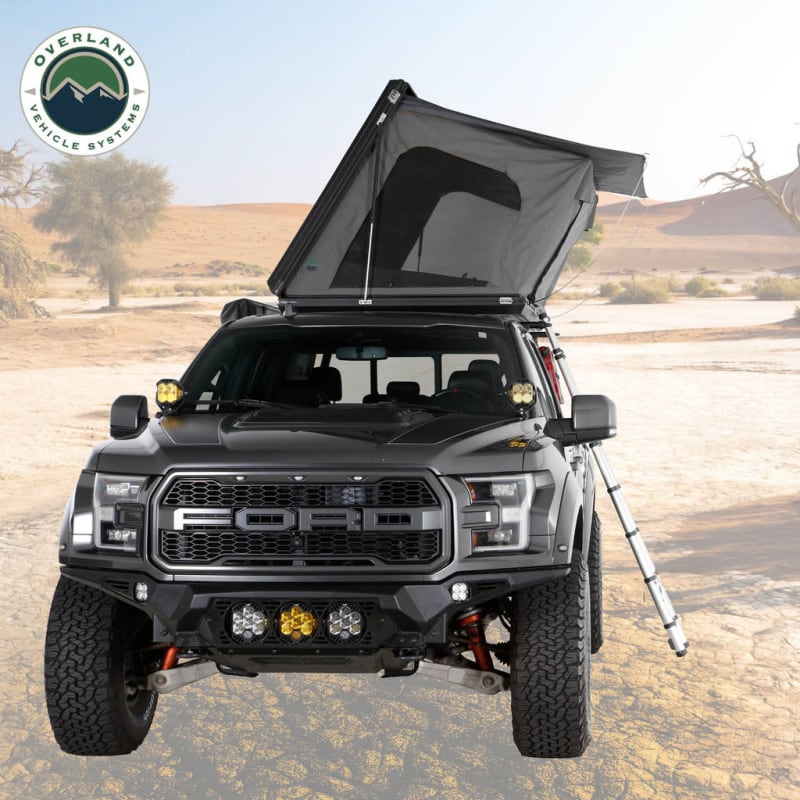 Overland Vehicle Systems Sidewinder Aluminum Side Opening Roof Top Tent
Description

Shipping & Returns

Why Buy From Us
OVS Sidewinder - Built Tough To Take A Beating
It doesn't get much more Hard Shell than this! The Sidewinder from Overland Vehicle Systems is amongst the toughest in class when it comes to all aluminum side-hinged Hard Shell Roof Top Tents. The aluminum body will withstand a beating if you venture into areas with low-hanging branches or dense vegetation. This is ideal if you are a 4x4 warrior, a hunter, or just like taking your adventure rig off the beaten track! 
This 2-person, 4-season rooftop tent comes with a lot of standard features out of the box, such as an Anti-Condensation Mat, a thick 2" Mattress, and Removable Cross Bars for additional exterior storage. This is great if you need to carry extra gear, surfboards, kayaks, etc. on your adventures.
Full-Length Headroom 
If you are a taller person (6+ft), a side-hinged Roof Top Tent like the Sidewinder is a great option and will provide more foot space when open, compared to the Clamshell type tents.
The included adjustable interior pop-up struts provide full headroom through the length of the tent and are ideal for additional support when weight has been added to the cross bars.
For your safety, please always adhere to the loading instructions and maximum weight capacities of your vehicle, your roof rack, and/or cross bars. 
Bedding Fits Inside And Quick Set Up Time If You Only Got a Minute
If it is a priority to have more time to explore or spend with the family around the campfire, the Sidewinder is just what you are looking for. With a "Set Up" and "Store Away" time of less than a minute, this tent scores high here as well. All you need to do is unlock two latches, pull down your ladder, and insert the two included window rods.
Reverse the process to store it away, and you are off on your next adventure in a heartbeat. The tent even has enough interior space to store bedding or sleeping bags when closed, which is great if you don't have too much storage space inside your vehicle.
Low Gas Mileage Impact
The design of the Sidewinder is rugged, durable, and aerodynamic. This helps keep the impact on your gas mileage to a minimum.
Fully Compatible With Your Rig And Gear
Out of the box the Sidewinder has T-slot accessory channels to help mount recovery gear and many other smaller lightweight accessories directly to the body of the tent. Furthermore, the previously mentioned cross bars are fully compatible with Thule and Yakima accessories giving you more flexibility to customize your vehicle to each of your adventures. The cross bars are not expandable, but they can be removed if you wish to do so. 
Don't miss out on the opportunity to upgrade your adventures. Order your Sidewinder Aluminum Roof Top Tent today and go explore new places like never before!
Easy Installation
The Sidewinder Roof Top Tent is a universal Item, which requires no drilling or modification to your vehicle if equipped with a factory or aftermarket roof rack or cross bars. With the help of a friend, lift it on your roof rack or cross bars and follow the detailed instructions provided using the stainless steel mounting hardware included. Please ALWAYS check roof rack compatibility before installing the tent, as some racks are listed as "not compatible" with certain tent models.
Please note that it's very important to check your owner's manual or to contact your vehicle's manufacturer to get information on vehicle load capacities and warranty information before installing the roof top tent. Here are a few questions to ask:
What's the vehicle's 

Static Weight Capacity?

 This confirms that your vehicle and your rack will support the weight of your tent, plus everyone in it and their sleeping gear.

What's the vehicle's 

Dynamic Weight Capacity?

 This is the force exerted on your car and rack while you're driving, so it will be a separate spec for your vehicle and rack.
If you need help or have a question, just call us at 1(888) 982 9050 or email us on support@openroadoverland.com
Specifications
Season Rating: 4 Season
Hard Shell Material: Aircraft Grade Aluminum
Tent Fabric: Premium PU Coated 600D/280g Ripstop Polyester Canvas, Waterproof (water column

 3.000 mm)

 
Window Screens: 120G Environmental Fadeless Breathable Gaze
Mattress: 2" High-Density Foam
Anti Condensation Mat: Yes And It Is ¾" Thick
Base: 1" Aluminum Honeycomb Insulated
Inside Storage: Oversized Storage Loft
Base Storage: 2 Built-in Storage Bags
Closed Dimensions: 91"(L) x 55.5"(W) x 8"(H)
Open Dimensions: 91"(L) x 55.5"(W) x 49"(H)
Sleeping Dimensions: 86"(L) x 50"(W)
Sleeping Capacity: 2 Adults
Weight: 250 Lbs
Mounting Hardware Included: Yes
Cross Bars Included: Yes
Struts: 2 x Nitrogen Gas Charged Struts, 35.5" x 1" 400N. 1 x Telescoping Interior Strut
Pull Down Strap: Ballistic Nylon
Handles: Aircraft Grade Aluminum  
Seals: Military Specked Waterproof Grade
Set Up Time: Less than a minute
Store Away Time: Less than a minute
Storage: Enough interior space to store bedding or sleeping bags when closed
Warranty: 4-Year Limited Warranty
Unlike many other roof top tents, the Sidewinder Aluminum Side Opening Roof Top Tent comes standard with two aluminum installation rails, each with two channels (4 channels in total for maximum serviceability for the majority of racks available on the market). The distances between the inner and the outer rails are as follows: 

Distance between the inner rails: 29 3/4 inches
Distance between the outer rails: 30.5 inches
Dimensions
FAST & FREE SHIPING to the lower 48 states
We don't mess around with fine print and extra charges. Instead, we like things to be simple and easy for you.
Read more about the terms and conditions that apply in our Shipping Policy
30-Day Easy Returns
As experienced Overlanders, we fully understand that things do not always go according to plan.
That is why we offer you our "No Questions Asked" 30-Day Return Policy, so you can get back on the road for more adventures in a heartbeat.
Read more about the terms and conditions that apply in our Easy Returns Policy
We get it. You've got a lot of choices when it comes to online retailers, so why should you even bother spending your hard-earned bucks shopping with us?
Here are four short reasons why Open Road Overland is not like the rest of the bunch and why we believe that your shopping experience with us is not only 100% safe, but will also exceed your expectations, so you come back for more and maybe even bring your friends.
REASON #1: 100% SAFE & SECURE ONLINE SHOPPING
We use encrypted SSL security and are Level 1 PCI DSS compliant to ensure that your credit card information and every transaction on our website are 100% protected.
REASON #2: DRIVING THE WORLD SINCE 1998
We started overlanding in 1998, way before overlanding was even a term. Since then we have spent the last 25 years zig-zagging the planet trail testing the types of equipment you find in our store. In other words, we learned the hard way what works and what doesn't, through hands-on experience during our own adventures on 6 continents (yes, we still haven't made it to Antarctica). To ensure that we add value to your adventure with the products you shop with us, our policy is that nothing goes on our website before it has been thoroughly reviewed. This means that you will not find anything in our store that we would not bring along our use on our own overland adventures.
REASON #3: WE HAVE DRIVEN ALMOST EVERYTHING
Secondly, we have been driving almost any type of vehicle you can think of over the years. This means that we have acquired a strong skill set to answer any question you have concerning your own vehicle setup, no matter whether you drive a standard passenger car, a pickup truck, or a fully rigged 4x4 overlanding vehicle.
REASON #4: WE WANT EVERYBODY TO GO OVERLANDING
Thirdly, we strongly believe and promote that overlanding should be accessible to everybody, no matter what you drive, or what level of experience you have. That means that we can guide you as a novice overlander just starting out, as well as giving advice to you as an ultra pro with years of bushwhacking behind the wheel. That's why you will also see both entry-level products, as well as top-of-the-line gear on our site, so we can cater to everybody looking to elevate their own overland adventures. No matter what, you can rest assured that the products you find in our store are here because they do the job they were made to do.
WHAT ELSE DO I GET?
Apart from the above we of course also provide you with:
Free Shipping to the lower 48 states, with no extra charges. Ever!

Price Match Guarantee. Best prices online, guaranteed.

30-Day Easy Returns. Not happy with your product, we'll take it back no questions asked, and without charging you ANY restocking fee. Ever!

Great Service. We pride ourselves on the best service, anywhere.

Your Satisfaction Guaranteed. We handpick our products for quality to make sure you will love using them on your own adventures. But if there is ever something wrong, we'll fix it.