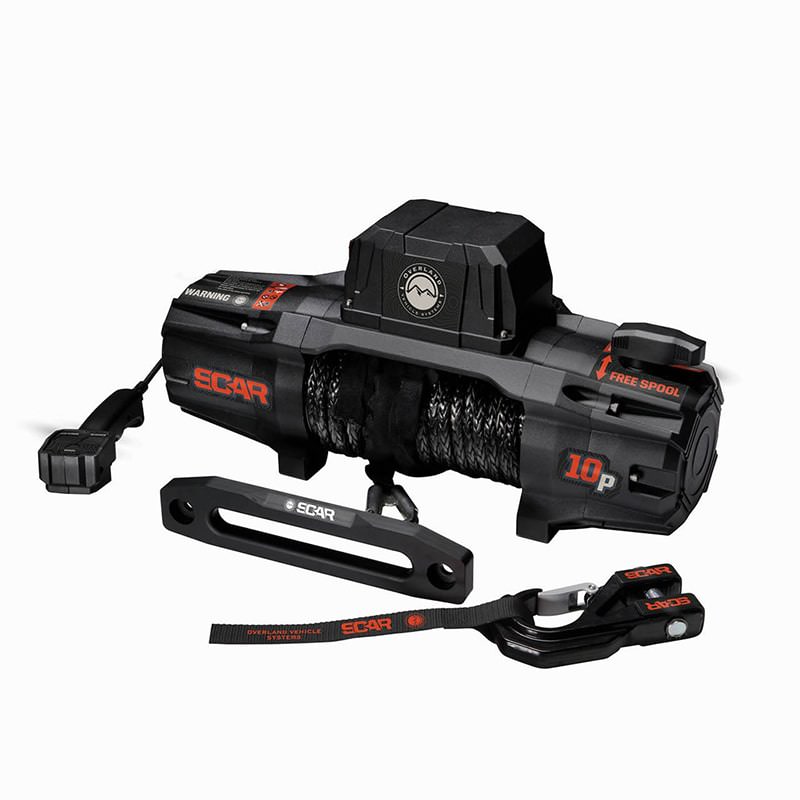 Overland Vehicle Systems SCAR Waterproof Winch With Wireless Remote
Description

Shipping & Returns

Why Buy From Us
Bogged Down? No Problem with the Overland Vehicle Systems S.C.A.R. Winch Series!
Every off-road enthusiast knows the thrill of treading into unknown territories. But with the thrill comes the risk of getting stuck in mud, sand, or snow. Traditional winches promise recovery, but how many truly deliver when it matters the most? The real test of a winch is not just in its strength but in its reliability, speed, and adaptability to diverse situations.
Power And Lightning Fast Line Speed United
With their 6.5 horsepower motor and 42 feet per minute line speed the OVS S.C.A.R (Submersible Compact Amphibious Recovery tool) winches are rugged warriors built to perform under extreme conditions ensuring you can get out of any adverse situation safely and quickly. They are engineered for repetitive pulls and are ideal for the most extreme recovery situations you may encounter on your adventures.
Their oversized engagement handle made from 6061 aircraft-grade aluminum is designed with precision and operates effortlessly due to its precision-engineered ring gear and 3-stage planetary gear system. All this promises an experience as smooth as a mountain lion's sprint.
And oh, the military spec cone braking system built right into the motor? That's where the magic happens ensuring zero heat and creep, even when you pull with all your might. It's like having the stamina of a marathon runner with the strength of a heavyweight champion!
What's Included
Avoid the headaches! - Everything you need is included with the Overland Vehicle Systems S.C.A.R. Winch Series and more!
1x OVS S.C.A.R. Winch
1x Wireless Remote Control with 11.5' Removable Cable and Lithium Battery
1x Synthetic Rope or Steel Cable (85 feet)
1x Heavy-Duty Hook With Clip

1x

 

Aluminum Hawse or Roller Fairlead
1x

Ergonomically Designed Clutch Lever
1x Instructions Manual

Limited Lifetime Warranty Mechanical
Limited 5-Year Warranty Electrical
Ships in 1-3 Business Days
30-Day No Stress Returns
FAST & FREE SHIPPING To The Lower 48 States
IP68 Waterproof And Wireless
Both the 10,000lb and 12,000lb versions come included with a Synthetic Rope (S-model) or Steel Cable of your choice and are tailor-made to dance through the harshest terrains. Did you ever dive into a waterlogged area and worried about your gear? Fret not! With IP68-rated waterproofing, this winch laughs in the face of wet challenges. And the cherry on top? An integrated wireless remote that feels like a magic wand in your hands. With its 11.5' removable cable and lithium battery, it's all set to command action from a safe distance. Plus, with its trusty 12V power source, it keeps the show going even when your engine is taking a break.
A Winch For Every Level Of Adventure
Whether you opt for the S.C.A.R. 10k or the S.C.A.R. 12k, you're making a choice that transcends ordinary winches. These versatile marvels are equipped to handle every off-road recovery challenge that comes your way.
S.C.A.R. 10k: Perfect for those seeking a reliable 10,000lb winch, the SCAR 10 or 10S is your gateway to off-road liberation. With its unmatched power and precision, it's the ideal companion for any enthusiast. Available with Synthetic Robe (10S) or Steel Cable (10).
S.C.A.R. 12k: When you demand even more from your winch, the SCAR 12 or 12S steps up to the challenge. With a formidable 12,000lb capacity, it's your ticket to conquering the wildest terrain, ensuring you never back down from any off-road adventure. Available with Synthetic Robe (12S) or Steel Cable (12).
Discover the thrill of adventure! Shop Now for the ultimate S.C.A.R. Winch and take your off-road journeys to new heights!
Product Specifications
Feature
Specifications
Rated Line Pull:
10/10S - 10,000 lbs / 12/

12S -

12,000 lbs
Motor:
6.5 Horsepower Series Wound

Waterproof:

IP68 Rated

Voltage:

12V

Control:

Control: Wireless Remote With 11.5' Lead With Built-in Lithium Battery

Gear Train:

3 Stage Planetary Gear Systems With Ring Gear

Gear Ration:

10/10S - 181:1 / 10/12S - 218:1

DB Output:

Low

Clutch:

Rotating Ring Gear

Braking Action:

Automatic Out-Of-Drum

Drum Size:

2.5" x 8.8"

Mounting Bolt Pattern:

10" x 4.5"

Overall Dimensions:

21.3" L x 6.3" W x 7.9" H

Line Speed:

42 FT Per Minute

Synthetic Rope/Steel Cable:

85 FT / Steel Cable: 11/32" x 85 FT

Hook:

Heavy Duty with Clip

Fairlead:

Aluminum Hawse / Roller Fairlead 

Electric Cable:

70" x 25 mm2

Solenoid:

500A (Heavy – Duty)

Recommended Battery:

650CCA Minimum.

Weight:

10/10S - 64 lbs / 12/12S - 66 lbs

Warranty:
Limited Lifetime Warranty Mechanical, 5-Year Limited Warranty Electrical
FAST & FREE SHIPING to the lower 48 states
We don't mess around with fine print and extra charges. Instead, we like things to be simple and easy for you.
Read more about the terms and conditions that apply in our Shipping Policy
30-Day Easy Returns
As experienced Overlanders, we fully understand that things do not always go according to plan.
That is why we offer you our "No Questions Asked" 30-Day Return Policy, so you can get back on the road for more adventures in a heartbeat.
Read more about the terms and conditions that apply in our Easy Returns Policy
We get it. You've got a lot of choices when it comes to online retailers, so why should you even bother spending your hard-earned bucks shopping with us?
Here are four short reasons why Open Road Overland is not like the rest of the bunch and why we believe that your shopping experience with us is not only 100% safe, but will also exceed your expectations, so you come back for more and maybe even bring your friends.
REASON #1: 100% SAFE & SECURE ONLINE SHOPPING
We use encrypted SSL security and are Level 1 PCI DSS compliant to ensure that your credit card information and every transaction on our website are 100% protected.
REASON #2: DRIVING THE WORLD SINCE 1998
We started overlanding in 1998, way before overlanding was even a term. Since then we have spent the last 25 years zig-zagging the planet trail testing the types of equipment you find in our store. In other words, we learned the hard way what works and what doesn't, through hands-on experience during our own adventures on 6 continents (yes, we still haven't made it to Antarctica). To ensure that we add value to your adventure with the products you shop with us, our policy is that nothing goes on our website before it has been thoroughly reviewed. This means that you will not find anything in our store that we would not bring along our use on our own overland adventures.
REASON #3: WE HAVE DRIVEN ALMOST EVERYTHING
Secondly, we have been driving almost any type of vehicle you can think of over the years. This means that we have acquired a strong skill set to answer any question you have concerning your own vehicle setup, no matter whether you drive a standard passenger car, a pickup truck, or a fully rigged 4x4 overlanding vehicle.
REASON #4: WE WANT EVERYBODY TO GO OVERLANDING
Thirdly, we strongly believe and promote that overlanding should be accessible to everybody, no matter what you drive, or what level of experience you have. That means that we can guide you as a novice overlander just starting out, as well as giving advice to you as an ultra pro with years of bushwhacking behind the wheel. That's why you will also see both entry-level products, as well as top-of-the-line gear on our site, so we can cater to everybody looking to elevate their own overland adventures. No matter what, you can rest assured that the products you find in our store are here because they do the job they were made to do.
WHAT ELSE DO I GET?
Apart from the above we of course also provide you with:
Free Shipping to the lower 48 states, with no extra charges. Ever!

Price Match Guarantee. Best prices online, guaranteed.

30-Day Easy Returns. Not happy with your product, we'll take it back no questions asked, and without charging you ANY restocking fee. Ever!

Great Service. We pride ourselves on the best service, anywhere.

Your Satisfaction Guaranteed. We handpick our products for quality to make sure you will love using them on your own adventures. But if there is ever something wrong, we'll fix it.