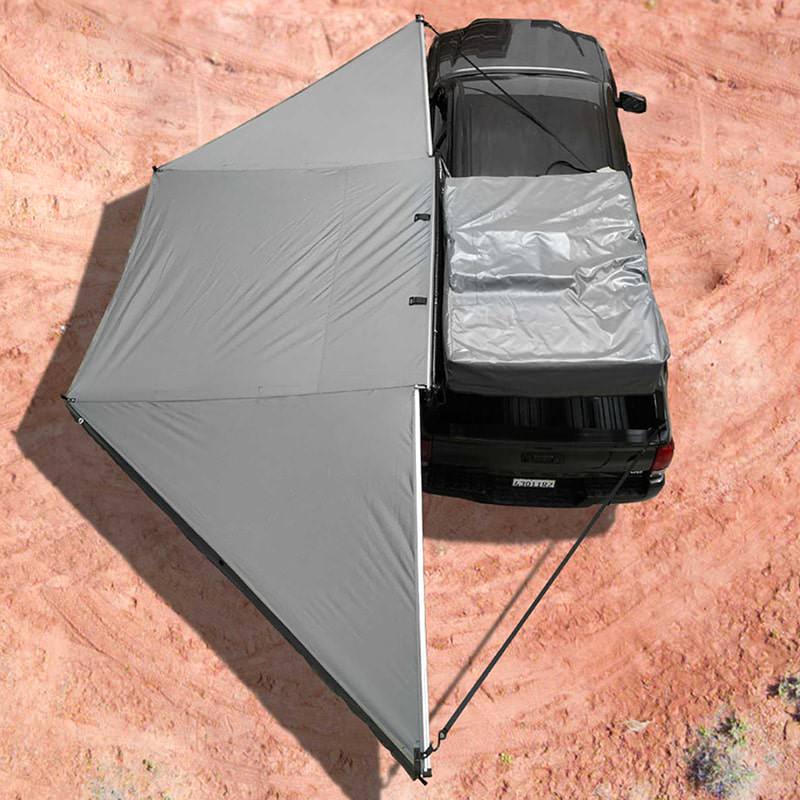 Overland Vehicle Systems Nomadic Awning 180
Description

Shipping & Returns

Why Buy From Us
Limitless Cover With The Nomadic 180 Awning!
Whoa! Have you ever dreamt of the wild, the thrill, and the sheer excitement of setting up camp in the most remote corners of the world? Well, fellow adventurers, we've just amped up your game! Introducing the Nomadic 180 Freestanding Awning, the game-changer every modern-day overlander needs in their arsenal.
Freestanding indeed, but if you see the weather changing or something stronger than a breeze turns up, fear not! As easy as ABC, you can deploy the three integrated pivoting aluminum poles and adjust them to your desired height in seconds using the innovative quick lock system.
When it's time to lock down basecamp for even more serious weather, deploy the additional two aluminum poles, secure them with the supplied para-cord and stakes, and you are ready to take on more severe storms.
Should you want a complete shelter for winter camping or prefer to have more privacy when out and about, you can opt-in for its bigger brother the OVS Nomadic Awning 180 With Zip-In wall.
What's Included
Avoid the headaches! - Everything you need is included with the Overland Vehicle Systems Nomadic Awning 180 and more!
1x Nomadic 180-degree awning with 

4 Built-In Aluminum Rafters

3x Pivoting Aluminum Adjustable Poles 

2x Telescoping Aluminum Poles
4x Sets Of Shock Cord
4x Heavy Duty Stakes 

3 Heavy Duty Mounting Brackets And Hardware
1x Nylon Reinforced Tie Down Kit
1x 1000G PVC Travel Cover With #10 Zipper 
Four-Year Limited Warranty
Ships in 1-3 Business Days
30-Day No Stress Returns
FAST & FREE SHIPPING To The Lower 48 States
Dive into the Heart of the Wild with Unparalleled Convenience!
The great outdoors! Just the thought brings to mind the mysteries of the wilderness, the allure of uncharted territories, and the heartbeat of nature. And now, with an astounding 88 square feet of shelter, the Nomadic 180 Awning promises you a front-row seat to this grand spectacle! Crafted from a beastly 280G/600D Poly-Cotton Rip-Stop material with Heat-Sealed seams, this is not just any awning; it's your fortress amidst the wild. Whether the skies decide to open up or the sun blazes down, you've got a sanctuary that stands tall, ensuring you're snug and dry.
Easy to Install - The Nomadic 180's Got Your Back!
Compatibility issues? Toss 'em out the window! Whether you're cruising in a factory-fitted ride or you've pimped up your adventure rig with an aftermarket roof rack, this awning's got you covered.
It's like the Swiss Army knife of awnings – versatile, reliable, and oh-so-cool. And if you're scratching your head about your rack's weight game, a quick check ensures you're on the right track.
Gear Up with Confidence - We've Got You Covered!
Now, every seasoned explorer knows the value of trusty equipment. With the Nomadic 180 Awning, you're teaming up with a buddy who's got your back for years to come. With a rock-solid four-year limited warranty and a UV rating that touches the skies at PU-2000, we're talking about a bond that lasts many thrilling adventures.
Ready For Anything, Anywhere
The beauty of the Nomadic 180 isn't just in its protection but in its compatibility. It's designed to fit almost anything with a factory or aftermarket roof rack. It will excel in the wild as a shelter from the rain or at the beach if you need to get out of the sun.
And when the day's adventures come to an end, stowing away your Nomadic 180 is a breeze. Encased in a 1000G PVC travel cover, ensuring your awning remains protected until the next adventure calls.
OVS Crafting Legends, One Adventure at a Time!
Overland Vehicle Systems knows adventure isn't just a word; it's their lifeblood. They're not just about quality gear; they're about epic tales, wild journeys, and the spirit of exploration. Built using only the most thoroughly tested materials, the OVS Nomadic 180-Degree Freestanding Awning ensures that every trip becomes a saga, every moment a memory.
The Call of Convenience Awaits! Are You Ready?
The Nomadic 180 Freestanding Awning is not just another piece of gear you can dangle from your rig; it's a convenience revolution, a call to arms for every adventurer out there. It's about passion, thrill, and the sheer joy of embracing the wild in comfort. So, what are you waiting for? Gear up, head out, and let the Nomadic 180 redefine your wild side. Adventure awaits, and it's time you answered the call! Order yours online today!
Product Specifications
Feature
Specifications
Opened Dimensions:
240" x 78.5"
Closed Dimensions:
88" x 7" x 6"

Weight:

66 lbs
Coverage:


88 sq ft

Material Awning:

280GSM/600D Poly Cotton Rip-Stop with heat-sealed seams

Material Travel Cover:

1000G PVC with #10 zippers

Material Rafters:

Aluminum
Material Poles:

Aluminum

Installation:

The awning 

w

ill fit most factory and aftermarket racks. Please confirm rack weight capacity prior if you're unsure or 

call us at 1(888) 982 9050
Warranty:

Four-Year Limited Warranty
MOUNTING OPTIONS
 ON YOUR RIG

OVS Nomadic Awning 180 Instruction Manual
Do you need more information about specifications, installation, care, etc.? Check out the Instruction Manual or download it by clicking the PDF icon!
FAST & FREE SHIPING to the lower 48 states
We don't mess around with fine print and extra charges. Instead, we like things to be simple and easy for you.
Read more about the terms and conditions that apply in our Shipping Policy
30-Day Easy Returns
As experienced Overlanders, we fully understand that things do not always go according to plan.
That is why we offer you our "No Questions Asked" 30-Day Return Policy, so you can get back on the road for more adventures in a heartbeat.
Read more about the terms and conditions that apply in our Easy Returns Policy
We get it. You've got a lot of choices when it comes to online retailers, so why should you even bother spending your hard-earned bucks shopping with us?
Here are four short reasons why Open Road Overland is not like the rest of the bunch and why we believe that your shopping experience with us is not only 100% safe, but will also exceed your expectations, so you come back for more and maybe even bring your friends.
REASON #1: 100% SAFE & SECURE ONLINE SHOPPING
We use encrypted SSL security and are Level 1 PCI DSS compliant to ensure that your credit card information and every transaction on our website are 100% protected.
REASON #2: DRIVING THE WORLD SINCE 1998
We started overlanding in 1998, way before overlanding was even a term. Since then we have spent the last 25 years zig-zagging the planet trail testing the types of equipment you find in our store. In other words, we learned the hard way what works and what doesn't, through hands-on experience during our own adventures on 6 continents (yes, we still haven't made it to Antarctica). To ensure that we add value to your adventure with the products you shop with us, our policy is that nothing goes on our website before it has been thoroughly reviewed. This means that you will not find anything in our store that we would not bring along our use on our own overland adventures.
REASON #3: WE HAVE DRIVEN ALMOST EVERYTHING
Secondly, we have been driving almost any type of vehicle you can think of over the years. This means that we have acquired a strong skill set to answer any question you have concerning your own vehicle setup, no matter whether you drive a standard passenger car, a pickup truck, or a fully rigged 4x4 overlanding vehicle.
REASON #4: WE WANT EVERYBODY TO GO OVERLANDING
Thirdly, we strongly believe and promote that overlanding should be accessible to everybody, no matter what you drive, or what level of experience you have. That means that we can guide you as a novice overlander just starting out, as well as giving advice to you as an ultra pro with years of bushwhacking behind the wheel. That's why you will also see both entry-level products, as well as top-of-the-line gear on our site, so we can cater to everybody looking to elevate their own overland adventures. No matter what, you can rest assured that the products you find in our store are here because they do the job they were made to do.
WHAT ELSE DO I GET?
Apart from the above we of course also provide you with:
Free Shipping to the lower 48 states, with no extra charges. Ever!

Price Match Guarantee. Best prices online, guaranteed.

30-Day Easy Returns. Not happy with your product, we'll take it back no questions asked, and without charging you ANY restocking fee. Ever!

Great Service. We pride ourselves on the best service, anywhere.

Your Satisfaction Guaranteed. We handpick our products for quality to make sure you will love using them on your own adventures. But if there is ever something wrong, we'll fix it.