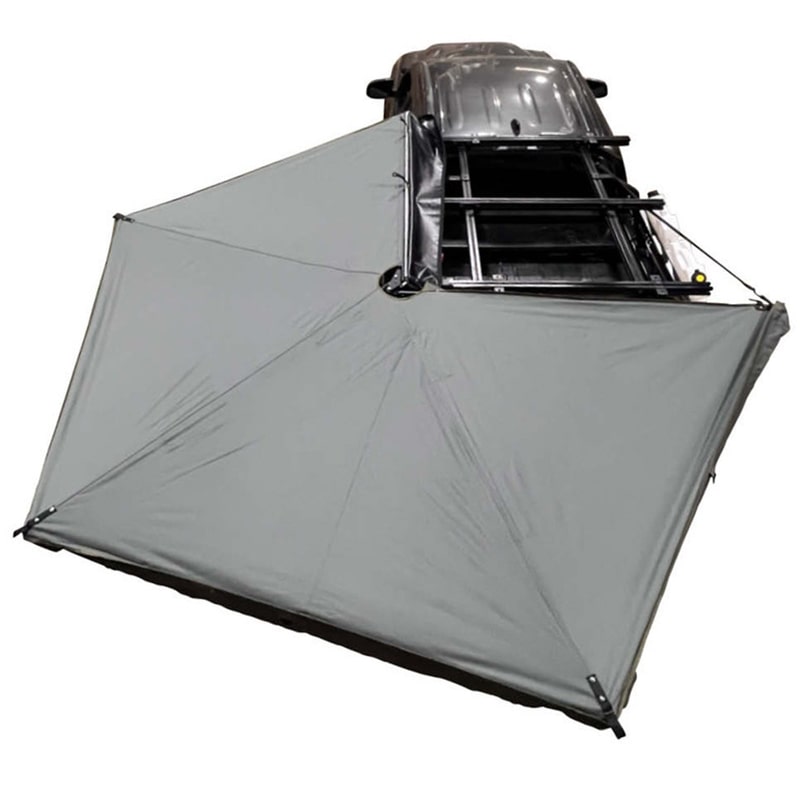 Overland Vehicle Systems Nomadic 270LTE Awning
Description

Shipping & Returns

Why Buy From Us
Lighter And More Compact Design Without Sacrificing Functionality With The OVS Nomadic 270LTE Awning!
Imagine, for a moment, you're on the edge of the most exhilarating adventure of your life. The world stretches out in front of you, vast, wild, and inviting. Now, what if I told you that there's a way to embrace the wild without giving up an ounce of comfort? That's right! Weighing in at only 35 lbs and still giving you 75 square feet of coverage 270 degrees around your rig, with the Overland Vehicle Systems Nomadic 270LTE Awning, you're not just stepping into nature; you're claiming it!
What's Included
Avoid the headaches! - Everything you need is included with the OVS Nomadic 270 LTE Awning and more!
1x Overland Vehicle Systems Nomadic 270 LTE Awning 
8x Heavy Duty Stakes
4x I

ntegrated Drop-Down 

Pivoting Poles With Twist Lock Technology
4x Sets Of Shock Cords With Retention
1x

 

Tension Strap 
1x Set of Mounting Hardware And Universal L Brackets
Four-Year Limited Warranty
Ships in 1-3 Business Days
30-Day No Stress Returns
FAST & FREE SHIPPING To The Lower 48 States
Leap Into Adventure, No Strings (Or Poles) Attached Until You Need Them!
Who said setting up a camp had to be all work and no play? Forget the frustrating poles and the elaborate setups. With this awning's reinforced oversized hinge and aluminum rafters, the free-standing design gets your shelter ready to roll in no time! And just when you think it can't get any better, the integrated quick-to-action drop-down aluminum poles ensure you're always prepared, even when the weather decides to throw a curveball.
And if you ever thought of going all in by wrapping yourself in a cocoon while amidst the wild? The optional Nomadic 270LTE Awning walls have got you covered, literally!
Your Sheild Against Nature's Mood Swings 
We've all been there: the unexpected drizzle when you're trying to light a campfire, or that blazing sun that turns your camping spot into a makeshift oven. But what if you had a secret weapon? Crafted with precision and care, the Nomadic 270LTE Awning stands as your fortress against the unpredictable tantrums of Mother Nature. Made from robust 280G Poly Cotton Rip-Stop material with Heat-Sealed seams, this beauty ensures that the elements remain an exciting backdrop, not an interruption!
An Explorer's Dream, Now a Reality
Let's get down to brass tacks. This awning isn't just about looking good (although it does that exceptionally well). It's about experience, adventure, and making every moment count. Offering 75 square feet of sheer coverage, it ensures you're always in the heart of the action, whether you're marveling at a meteor shower or simply soaking in a crimson sunset. And with its universal "L" mounting bracket, whether you're in a rugged jeep or a sleek SUV, this awning fits like a dream.
Optional Customization That Makes Every Difference To Your Comfort
Ask any seasoned explorer, and they'll tell you: that organization is key. And with the optional Nomadic Awning Organizer, every piece of gear has its place. Made from the rugged 600D Rip Stop Material, it's built to last, just like your spirit of adventure.
As twilight descends and the world takes on an ethereal glow, the optional LED light strip ensures you're not left in the dark.
And if you want to ramp up your camping game entirely, the optional 270LTE awning walls are your ticket to a world of comfort and coziness anywhere anytime.
A Quality Promise as Steadfast as Your Passion for Adventure
While the Nomadic 270LTE Awning promises to revolutionize your outdoor experience, OVS further solidifies its commitment to excellence with a generous Four-Year Limited Warranty. Every awning is a testament to OVS's dedication to quality, ensuring you embark on every adventure with unwavering trust in your shelter.
Answer the Call of the Wild!
In every rustling leaf, in every bird's call, in the very heartbeat of the wilderness, there's an invitation—a call to explore, discover, and feel alive. The Overland Vehicle Systems Nomadic 270LTE Awning isn't just a piece of equipment. It's the bridge between you and your comfort in the wild. So, get your rig ready, chart out your course, and let every adventure be a story waiting to be told! The rugged outdoors awaits! Order your OVS Nomadic 270LTE Awning today and make every journey legendary.
Product Specifications
| Feature | Specifications |
| --- | --- |
| Weight: | 35 lbs |
| Coverage: | 75 Square Feet |
| Material Awning: | 280G Poly Cotton Rip-Stop |
| Material Travel Cover: | 1000G PVC Cover |
| Warranty: | Four-Year Limited Warranty |
OVS Nomadic 270LTE Awning Instruction Manual
Do you need more information about specifications, installation, care, etc.? - Then check out the Instruction Manual or download it by clicking the PDF icon!
FAST & FREE SHIPING to the lower 48 states
We don't mess around with fine print and extra charges. Instead, we like things to be simple and easy for you.
Read more about the terms and conditions that apply in our Shipping Policy
30-Day Easy Returns
As experienced Overlanders, we fully understand that things do not always go according to plan.
That is why we offer you our "No Questions Asked" 30-Day Return Policy, so you can get back on the road for more adventures in a heartbeat.
Read more about the terms and conditions that apply in our Easy Returns Policy
We get it. You've got a lot of choices when it comes to online retailers, so why should you even bother spending your hard-earned bucks shopping with us?
Here are four short reasons why Open Road Overland is not like the rest of the bunch and why we believe that your shopping experience with us is not only 100% safe, but will also exceed your expectations, so you come back for more and maybe even bring your friends.
REASON #1: 100% SAFE & SECURE ONLINE SHOPPING
We use encrypted SSL security and are Level 1 PCI DSS compliant to ensure that your credit card information and every transaction on our website are 100% protected.
REASON #2: DRIVING THE WORLD SINCE 1998
We started overlanding in 1998, way before overlanding was even a term. Since then we have spent the last 25 years zig-zagging the planet trail testing the types of equipment you find in our store. In other words, we learned the hard way what works and what doesn't, through hands-on experience during our own adventures on 6 continents (yes, we still haven't made it to Antarctica). To ensure that we add value to your adventure with the products you shop with us, our policy is that nothing goes on our website before it has been thoroughly reviewed. This means that you will not find anything in our store that we would not bring along our use on our own overland adventures.
REASON #3: WE HAVE DRIVEN ALMOST EVERYTHING
Secondly, we have been driving almost any type of vehicle you can think of over the years. This means that we have acquired a strong skill set to answer any question you have concerning your own vehicle setup, no matter whether you drive a standard passenger car, a pickup truck, or a fully rigged 4x4 overlanding vehicle.
REASON #4: WE WANT EVERYBODY TO GO OVERLANDING
Thirdly, we strongly believe and promote that overlanding should be accessible to everybody, no matter what you drive, or what level of experience you have. That means that we can guide you as a novice overlander just starting out, as well as giving advice to you as an ultra pro with years of bushwhacking behind the wheel. That's why you will also see both entry-level products, as well as top-of-the-line gear on our site, so we can cater to everybody looking to elevate their own overland adventures. No matter what, you can rest assured that the products you find in our store are here because they do the job they were made to do.
WHAT ELSE DO I GET?
Apart from the above we of course also provide you with:
Free Shipping to the lower 48 states, with no extra charges. Ever!

Price Match Guarantee. Best prices online, guaranteed.

30-Day Easy Returns. Not happy with your product, we'll take it back no questions asked, and without charging you ANY restocking fee. Ever!

Great Service. We pride ourselves on the best service, anywhere.

Your Satisfaction Guaranteed. We handpick our products for quality to make sure you will love using them on your own adventures. But if there is ever something wrong, we'll fix it.