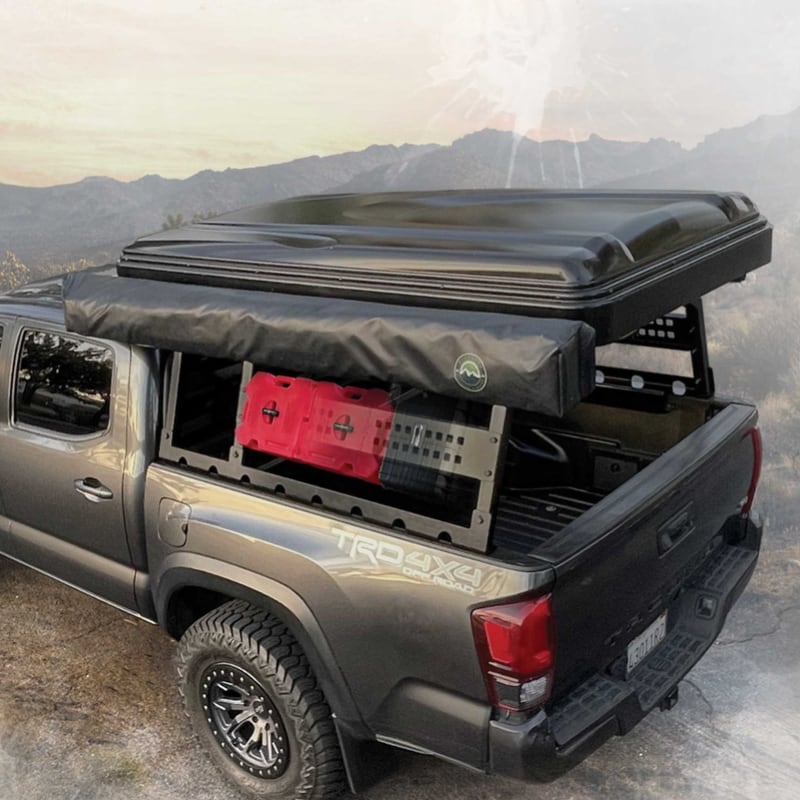 Overland Vehicle Systems Discovery Rack For Short Bed Trucks
Description

Shipping & Returns

Why Buy From Us
Unveil the Overland Vehicle Systems Discovery Rack: Your Passport to Adventure
Are you ready to embark on an electrifying journey into the world of overlanding? Brace yourself for the Overland Vehicle Systems Discovery Rack for Mid Size Truck Short Bed Applications – a dynamic, multipurpose cab-height Truck Bed Rack, your trusty companion for exploration. It's not just a rack; it's your portal to the wild unknown, and it's bursting with features that'll send shivers of excitement down your spine.
Where Versatility Meets Invincibility
Picture this: a universal fit for mid-size trucks - like Toyota Tacoma's and Chevrolet Colorado's - that's so easy to install, that you'll be on the road to adventure in no time. No more drilling holes or wrestling with complicated setups. The Discovery Rack's direct bolt-on design ensures a seamless installation, letting you focus on what truly matters – your upcoming escapades. The heavy-duty 2" square top rails, adjustable to your liking, provide an unshakeable foundation for your gear.
What's Included
Avoid the headaches! - Everything you need is included with the OVS Discovery Rack and more!
1x OVS Discovery Rack
No Drill Installation
Two Stage Powder Coated Hardware
Marine Grade Stainless Steel Construction
2x Accessory Plates With Molle Panel Mounting Holes
2x Shelf Mounts
3x Square Crossbars
2x Crossbar Mounting Rails
6x Fixed Height Towers
6x Foam Bed Protectors
1x Removable Adjustable Shelf
Limited Lifetime Structural Warranty
Limited Five-Year Finish Warranty
Ships in 1-3 Business Days
30-Day No Stress Returns
FAST & FREE SHIPPING To The Lower 48 States
Designed to Ignite Your Adventurous Spirit
But that's just the beginning! The Discovery Rack is more than just a rack – it's your canvas for creating the ultimate overlanding setup. Its open Truck Bed Rack design is perfect for your Roof Top Tent, 270-degree Awning, Lighting, Recovery Boards, and every piece of Overland gear you can dream of. And guess what? It's got multiple tie-down points and full-length rails integrated with tie-downs, ensuring your precious cargo is locked down tight.
Unleash the Potential of Your Overland Dreams
Here's where the Discovery Rack truly shines – compatibility with Roof Top Tents and Awnings! With an expansive crossbar length of 51.25", an accessory plate length of 41", and an overall length of 57", you're bestowed with the canvas to paint your ideal overlanding picture. The marine-grade stainless steel hardware and resilient 2-stage black powder coat finish ensure that your setup remains unbreakable in even the harshest of terrains.
Capacity Beyond Imagination
This rack isn't just about style; it's about substance. Feel the power as it boasts a dynamic weight capacity of 450 lbs and a static weight capacity of 1350 lbs. Whether you're solo adventuring or embarking on a family odyssey, this rack has your back, and it's up for the challenge.
The OVS Promise
Overland Vehicle Systems are not just about adventure; they're about delivering unparalleled quality and innovation. That's why they proudly offer one of the best warranties in the industry – a Limited Lifetime Structural Warranty and a Five-Year Finish Warranty. Your investment is their commitment, and they stand by it.
Master the Art of Storage
Overlanding demands organization and the Discovery Rack is up for the challenge. It features a removable shelf, a treasure chest for your essentials like propane bottles, air compressors, etc. The side mounting plates come with integrated Molle Panels, offering infinite possibilities for securing, water cans, jacks, recovery boards, and all your favorite accessories. It's your gear, your way.
Your Adventure Awaits – Seize It!
Are you ready to transform your truck into the ultimate overlanding beast? Don't hold back. This is your golden ticket to adventure, waiting to whisk you away. With an installation that's quick as lightning and versatility that'll make your heart race, it's time to claim your slice of the wild. Don't wait any longer – order your Overland Vehicle Systems Discovery Rack today and let the adventures begin.
PLEASE NOTE: The OVS Discovery Rack is NOT COMPATIBLE with the Ford Ranger or Ford Maverick Series.
Product Specifications
| Feature | Specifications |
| --- | --- |
| Weight: | 186 lbs |
| Width: | 105" |
| Height: | 27" |
| Depth: | 15" |
| Dynamic Weight Capacity: | 450 lbs |
| Static Weight Capacity: | 1350 lbs |
| Overall Height: | 23" |
| Overall Length: | 57" |
| Crossbar Length: | 51.25" |
| Accessory Plate Length: | 41" |
| | |
| Hardware: | Two-Stage Black Powder Coated Marine Grade Stainless Steel Hardware |
| Installation: | No Holes to Drill Installation |
| Compatible With: | Universal Fit Mid-Size Short Bed Truck Applications. If in doubt, please call us at 1(888) 982-9050 |
| NOT Compatible With: | Ford Ranger Series And Ford Maverick Series |
| Warranty: | Limited Lifetime Structural Warranty And Five-Year Finish Warranty |
OVS Discovery Rack Instruction Manual
Do you need more information about specifications, installation, care, etc.? - Then check out the Instruction Manual or download it by clicking the PDF icon!
FAST & FREE SHIPING to the lower 48 states
We don't mess around with fine print and extra charges. Instead, we like things to be simple and easy for you.
Read more about the terms and conditions that apply in our Shipping Policy
30-Day Easy Returns
As experienced Overlanders, we fully understand that things do not always go according to plan.
That is why we offer you our "No Questions Asked" 30-Day Return Policy, so you can get back on the road for more adventures in a heartbeat.
Read more about the terms and conditions that apply in our Easy Returns Policy
We get it. You've got a lot of choices when it comes to online retailers, so why should you even bother spending your hard-earned bucks shopping with us?
Here are four short reasons why Open Road Overland is not like the rest of the bunch and why we believe that your shopping experience with us is not only 100% safe, but will also exceed your expectations, so you come back for more and maybe even bring your friends.
REASON #1: 100% SAFE & SECURE ONLINE SHOPPING
We use encrypted SSL security and are Level 1 PCI DSS compliant to ensure that your credit card information and every transaction on our website are 100% protected.
REASON #2: DRIVING THE WORLD SINCE 1998
We started overlanding in 1998, way before overlanding was even a term. Since then we have spent the last 25 years zig-zagging the planet trail testing the types of equipment you find in our store. In other words, we learned the hard way what works and what doesn't, through hands-on experience during our own adventures on 6 continents (yes, we still haven't made it to Antarctica). To ensure that we add value to your adventure with the products you shop with us, our policy is that nothing goes on our website before it has been thoroughly reviewed. This means that you will not find anything in our store that we would not bring along our use on our own overland adventures.
REASON #3: WE HAVE DRIVEN ALMOST EVERYTHING
Secondly, we have been driving almost any type of vehicle you can think of over the years. This means that we have acquired a strong skill set to answer any question you have concerning your own vehicle setup, no matter whether you drive a standard passenger car, a pickup truck, or a fully rigged 4x4 overlanding vehicle.
REASON #4: WE WANT EVERYBODY TO GO OVERLANDING
Thirdly, we strongly believe and promote that overlanding should be accessible to everybody, no matter what you drive, or what level of experience you have. That means that we can guide you as a novice overlander just starting out, as well as giving advice to you as an ultra pro with years of bushwhacking behind the wheel. That's why you will also see both entry-level products, as well as top-of-the-line gear on our site, so we can cater to everybody looking to elevate their own overland adventures. No matter what, you can rest assured that the products you find in our store are here because they do the job they were made to do.
WHAT ELSE DO I GET?
Apart from the above we of course also provide you with:
Free Shipping to the lower 48 states, with no extra charges. Ever!

Price Match Guarantee. Best prices online, guaranteed.

30-Day Easy Returns. Not happy with your product, we'll take it back no questions asked, and without charging you ANY restocking fee. Ever!

Great Service. We pride ourselves on the best service, anywhere.

Your Satisfaction Guaranteed. We handpick our products for quality to make sure you will love using them on your own adventures. But if there is ever something wrong, we'll fix it.