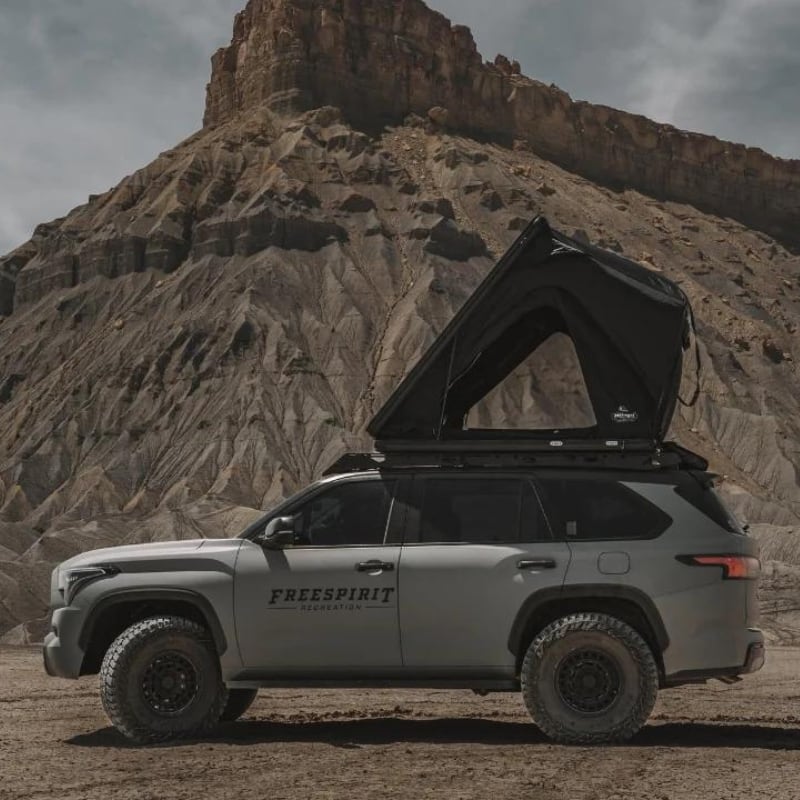 Freespirit Recreation Aspen Lite Roof Top Tent
Description

Shipping & Returns

Why Buy From Us
The Lightest 4-Season Aluminum Roof Top Tent On The Market!

Boom it's finally here. A true high-end 4-Season Hard Shell Roof Top Tent that weighs only 100 or 110 lbs, depending on whether you go for the Aspen Lite or the Aspen Lite XL! The Aspen Lite Roof Top Tent is a game-changer for versatility if you use your vehicle both as an overlanding vehicle and as a daily driver.
Why? Because the low weight makes it possible for one person to remove and install the tent on your truck, car, or SUV, making it easier to modify your vehicle according to your specific needs. This roof top tent is designed for those who crave adventure without compromise.
**PLEASE NOTE THAT THE FSR ASPEN LITE AND THE ASPEN LITE XL ARE ON BACKORDER UNTIL JANUARY 2024 - PRE-ORDER NOW**
Experience the Instant Camping Revolution!
Hold on to your hats, fellow adventurers! The Aspen Lite Rooftop Tent boasts a quick deployment system that'll leave you in awe. No more tedious tent setups that drain your energy before your adventure even begins. With this ingenious tent, you're up and running in mere seconds, not minutes! Imagine arriving at your campsite and, with the flick of a wrist, your cozy shelter unfolds before your eyes. Get ready to dive into the heart of nature at a moment's notice!
What's Included
Avoid the headaches! - Everything you need is included with the Freespirit Recreation Aspen Lite Roof Top Tent and more!
1x Freespirit Recreation Aspen Lite Roof Top Tent
1x Soft Cover
1x Self-Inflating Mattress
1x Telescopic Ladder
1x Shoe Bags
1x Removable Roof Pocket System

1x Set 

O

f Mounting Hardware

Two-Year Limited Warranty
Ships in 1-3 Business Days
30-Day No Stress Returns
FAST & FREE SHIPPING To The Lower 48 States
Build by Freespirit Recreation In Collaboration with Talon Sei
In the development process for the Aspen Lite, Freespirit Recreation teamed up with Outdoor Enthusiast and YouTube Creator Talon Sei. The result is an ultralight, durable, and very serviceable Hard Shell Roof Top Tent that will last you for years to come. Despite the low weight, Freespirit Recreation has not compromised the tent size, and the Aspen Lite Clamshell Tent is the perfect size for two adults or a couple with adventurous souls.
The Aspen Lite is Available in two sizes. The standard Aspen Lite measures 49" in width, and the wider Aspen Lite XL measures 58", and both come in a sleek FSR Black. The tent is ultra-easy to operate and can be fully pitched in as little as 25 seconds. That is extremely convenient if you need to pitch your tent in heavy rain or don't want to waste time struggling with complicated ground tent setups.
Moreover, the Aspen Lite comes out of the box with a soft cover for the shell included, providing an extra layer of safeguarding against dust, mud, and ever-changing elements during your travels. This protective shield can be swiftly detached when its protection is not required, ensuring you're always ready for whatever adventure unfolds.
Extremely Spacious With Best-In-Class Headspace
One of the best features of the Aspen Lite is its spacious interior, with plenty of room for sleeping, sitting, and storing gear like sleeping bags inside. The newly designed and removable roof pocket system is now partly made from clear material. This is perfect for a tablet or a phone if you want a movie night while camping. With the electrical pass-throughs on the side of the Aspen Lite, it is easy to feed cables through the sidewall if needed. These are even big enough to fit a diesel heater if you go camping in extreme temperatures.
The increased pitch angle of the roof makes the tent open up wider, giving you significantly more headspace compared to other Clamshell Roof Top Tents on the market. The rear opening of the tent has been specifically designed so you will experience an unobstructed view from the inside, making this the perfect spot to hang out and enjoy those awesome views Mother Nature throws at you.
With the Aspen Lite's three large bug mesh-covered doors and windows, you will have plenty of natural light and ventilation to further enhance your outdoor experience. The improved top ventilation ports are now bug mesh covered and will significantly reduce condensation inside the tent, meaning that the days of waking up in a damp and moist tent are over.
Ready To Face The Elements With Increased Insulation
Like its bigger brother, the Evolution V2 Hard Shell Roof Top Tent, the Aspen Lite Clamshell Tent comes out of the box with the breathable Tri-Layer waterproof Rip-Stop fabric. This is also fitted to the ceiling of the Aspen Lite for increased insulation and is designed to withstand the elements and keep you warm and dry. The breathable Tri-Layer construction is sonic-welded, moisture-wicking, and Poly-Cotton filled, meaning that it works very similar to your premium down jacket, keeping you warmer in the winters and cooler in the summers. Should you be unfortunate to cut or burn a hole in the fabric, the new design makes this tent more serviceable to extend durability and reduce its environmental footprint.
Weatherproof Guardian
Mother Nature can be unpredictable, but the Aspen Lite Rooftop Tent ensures you stay cozy and dry, regardless of her whims. Crafted with a cutting-edge breathable Tri-Layer waterproof RipStop fabric and reinforced with an aluminum frame construction, this tent stands as a sturdy fortress against the elements. Rain, wind, or shine, your camping experience remains undisturbed, allowing you to revel in the beauty of the great outdoors without a worry in sight.
Superior Comfort
Restful nights and comfort are vital when it comes to camping, and the Aspen Lite delivers here as well with its 3-inch AirCore Memory Foam mattress that can be adjusted to accommodate how soft or hard you want it to be. This gives you an extremely comfortable and supportive sleeping experience so you can wake up refreshed and energized for the next day's adventures. 
Additionally, the telescopic ladder and shoe bags offer added convenience, making your stay in the wild a breeze.
Dimmable LED Light
Aspen Lite's clever design includes two large windows that invite natural light to flood your cozy haven and a generously sized entry door that offers hassle-free access from any angle.
For the dark hours of the night, an extra treat is the built-in dimmable LED light. This is convenient for setting the right mood but also provides plenty of light to read, play games, or plan tomorrow's hiking route. It will also serve you well if you need to get up at night or if you need to pack your stuff before dawn.
Adventure Awaits
Whether you're embarking on an expedition deep into the backcountry or simply taking a quick pit stop on your journey, the Aspen Lite Rooftop Tent guarantees an experience that is not only comfortable and convenient but also safe and enjoyable. Embrace the freedom to camp instantly wherever your heart desires, knowing that your rooftop sanctuary is always at your beck and call.
Its spacious interior, comfort, and versatility make it an investment you won't regret. Don't miss out on the opportunity to make your camping experience unforgettable. Order your Aspen Lite today and start enjoying the great outdoors like never before!
Product Specifications
Feature
Specifications
Exterior Closed Dimensions (Aspen Lite XL):
7.5"h X 58"w X 80.5"l
Exterior Open Dimension (Aspen Lite XL)

:

64"h X 58"w X 80.5"l
Exterior Closed Dimensions (Aspen Lite):

7.5"h X 49"w X 80.5"l

Exterior Open Dimension (Aspen Lite)

:

64"h X 49"w X 80.5"l

Interior Height:
60"
Mounting Rails (center to center):
30.5"
Mounting Rails (center to center 2nd holes):
23.5"
Mounting Rails Length:
75.5"
Mounting Rails Width:
1.8"
Interior Dimensions (Aspen Lite XL)

:

52.5"w X 78.5"l
Interior Dimensions  (Aspen Lite)

:

45"w X 78.5"l

Front Door Dimensions:
35"w X 34"h
Side Door Dimensions:
39"w X 44"h
Head Pocket Dimensions:
12" top, 7" Bottom, 10" sides.
Roof Pocket Grid Dimensions:
11" X 9" Four Outer Pockets, 12" X 9" Center Pockets
Mattress Size When Deflated (Aspen Lite XL)

:

2"h X 52"w X 73"l
Mattress Size When Inflated (Aspen Lite XL)

:

3"h X 52"w X 78.5"l
Mattress Size When Deflated (Aspen Lite)

:

2"h X 45.75"w X 73"l

Mattress Size When Inflated (Aspen Lite)

:

3"h X 45.75"w X 78.5"l

Room Inside For Gear:
3" with a deflated mattress
Length Of Side Channels:
71.5"
Weight (Aspen Lite XL)

:

110 lbs
Weight (Aspen Lite)

:

100 lbs
Weight Capacity:
750 lbs
Tri-Layer Material Doors & Window:
3 Layers of 150D Poly-Oxford with 90g/M2 Poly-fil
Mounting Bracket Size:
1.2"w X 7"l X 0.75" deep (Fits up to 3" bar)
Mounting Bolt Length:
M8 - 1.25mm X 2"l
Gas Strut Rating:
300N
Ladder Height Open:
97.5"
Ladder Height Collapsed:
30"
Ladder Width:
19"
Warranty:
Two-Year Limited Warranty
FAST & FREE SHIPING to the lower 48 states
We don't mess around with fine print and extra charges. Instead, we like things to be simple and easy for you.
Read more about the terms and conditions that apply in our Shipping Policy
30-Day Easy Returns
As experienced Overlanders, we fully understand that things do not always go according to plan.
That is why we offer you our "No Questions Asked" 30-Day Return Policy, so you can get back on the road for more adventures in a heartbeat.
Read more about the terms and conditions that apply in our Easy Returns Policy
We get it. You've got a lot of choices when it comes to online retailers, so why should you even bother spending your hard-earned bucks shopping with us?
Here are four short reasons why Open Road Overland is not like the rest of the bunch and why we believe that your shopping experience with us is not only 100% safe, but will also exceed your expectations, so you come back for more and maybe even bring your friends.
REASON #1: 100% SAFE & SECURE ONLINE SHOPPING
We use encrypted SSL security and are Level 1 PCI DSS compliant to ensure that your credit card information and every transaction on our website are 100% protected.
REASON #2: DRIVING THE WORLD SINCE 1998
We started overlanding in 1998, way before overlanding was even a term. Since then we have spent the last 25 years zig-zagging the planet trail testing the types of equipment you find in our store. In other words, we learned the hard way what works and what doesn't, through hands-on experience during our own adventures on 6 continents (yes, we still haven't made it to Antarctica). To ensure that we add value to your adventure with the products you shop with us, our policy is that nothing goes on our website before it has been thoroughly reviewed. This means that you will not find anything in our store that we would not bring along our use on our own overland adventures.
REASON #3: WE HAVE DRIVEN ALMOST EVERYTHING
Secondly, we have been driving almost any type of vehicle you can think of over the years. This means that we have acquired a strong skill set to answer any question you have concerning your own vehicle setup, no matter whether you drive a standard passenger car, a pickup truck, or a fully rigged 4x4 overlanding vehicle.
REASON #4: WE WANT EVERYBODY TO GO OVERLANDING
Thirdly, we strongly believe and promote that overlanding should be accessible to everybody, no matter what you drive, or what level of experience you have. That means that we can guide you as a novice overlander just starting out, as well as giving advice to you as an ultra pro with years of bushwhacking behind the wheel. That's why you will also see both entry-level products, as well as top-of-the-line gear on our site, so we can cater to everybody looking to elevate their own overland adventures. No matter what, you can rest assured that the products you find in our store are here because they do the job they were made to do.
WHAT ELSE DO I GET?
Apart from the above we of course also provide you with:
Free Shipping to the lower 48 states, with no extra charges. Ever!

Price Match Guarantee. Best prices online, guaranteed.

30-Day Easy Returns. Not happy with your product, we'll take it back no questions asked, and without charging you ANY restocking fee. Ever!

Great Service. We pride ourselves on the best service, anywhere.

Your Satisfaction Guaranteed. We handpick our products for quality to make sure you will love using them on your own adventures. But if there is ever something wrong, we'll fix it.