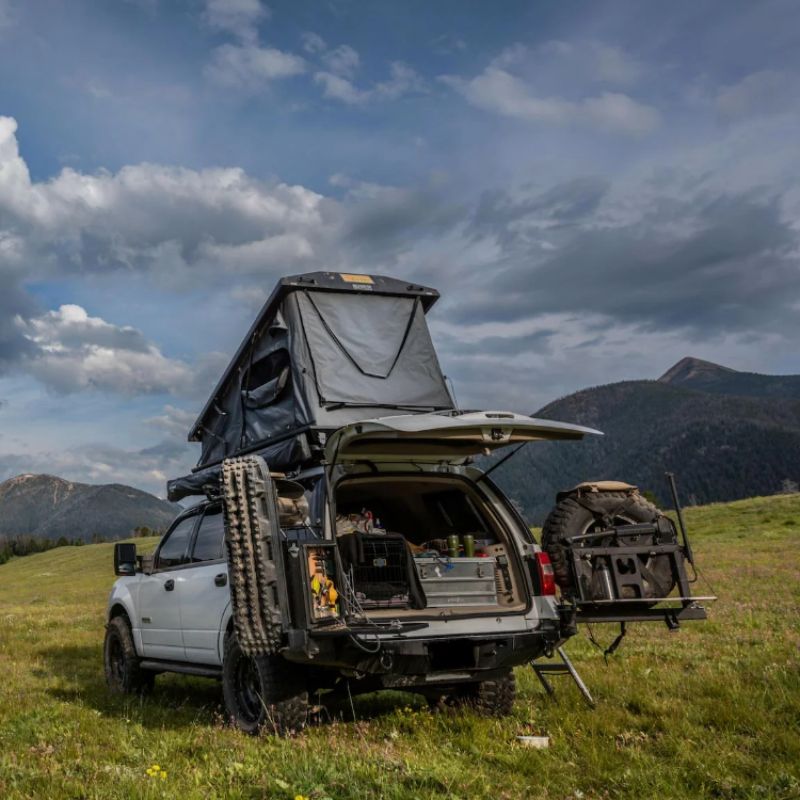 Eezi-Awn Stealth Hard Shell Roof Top Tent
Description

Shipping & Returns

Why Buy From Us
UNLEASH YOUR INNER ADVENTURER
If you're ready to leave the ordinary behind and dive headfirst into extraordinary experiences, then the Eezi-Awn Stealth Hard Shell Roof Top Tent is your ultimate ticket to epic adventures. Crafted with the precision and expertise needed to conquer nature's challenges, this rugged outdoor companion offers the perfect blend of convenience and comfort, making it an irresistible choice for thrill-seeking souls like us.
The Eezi-Awn Stealth is built to handle anything Mother Nature throws at it. This bad boy is tough as nails, designed to withstand the harshest elements and keep you safe and sound amidst the wild. Whether you're facing pouring rain, blazing sunshine, gusty winds, or even a surprise snowstorm, this tent has got your back, allowing you to focus on what truly matters: chasing those adrenaline-fueled adventures!
FREE SHIPPING TERMS:

DUE TO THE SIZE AND WEIGHT OF EEZI-AWN ROOF TOP TENTS, FREE SHIPPING IS ONLY ELIGIBLE FOR THE FOLLOWING DESTINATIONS:

Your nearest Freight Depot or Distribution Center for pick up

Commercial addresses with a forklift or a loading dock - Roof Top Tents can be unloaded on a dock with a pallet jack
WHAT'S INCLUDED
Here's everything that's included with the Eezi-Awn Stealth
✅ Eezi-Awn Stealth Roof Top Tent
✅ XKLUSIV Ladder (stores under tent & can be used on all three entries)
✅ Built-In Double-Size 3.15 Inches Thick Laminated Mattress with Quilted Surface
✅ Insulated Roof & Floor
✅ Four-Point DIY Mounting Hardware Set
✅ Four Mounting Rails on the Bottom of the Tent
✅ Internal Storage Pockets
✅ National Luna LED Light on Interior Roof
✅ 12V Power Supply Socket (supply cord included)
✅ Lockable Stainless Steel Latches
✅ Assistance Strap for Lowering the Roof
✅ Low Temperature YKK© Zippers
EFFORTLESS SETUP, ULTIMATE COMFORT
Setting up camp has never been quicker or easier. With the Eezi-Awn Stealth, you can unleash your inner adventurer in no time. Just like unlocking a hidden treasure chest, the gas strut-assisted opening mechanism reveals a spacious interior that unfolds effortlessly. And let me tell you, the comfort inside is unparalleled. With its high-density foam mattress, this rooftop tent ensures you get your well-deserved beauty sleep, waking up refreshed and ready to conquer the next challenge.
Get ready to experience the perfect blend of luxury and functionality. The Eezi-Awn Stealth's sleek design not only maximizes space but also features top-notch materials that provide exceptional insulation. No matter if you're battling freezing temperatures or scorching heat waves, this tent has got your back, keeping you cozy and comfortable throughout your wild escapades. And thanks to its intelligent ventilation system, you'll enjoy a constant flow of fresh air, keeping your spirit high and your senses alive in the heart of nature.
JOIN AN EXCLUSIVE LEAGUE OF ADVENTURERS
By investing in Eezi-Awn's exceptional product range, you become part of an exclusive group of adventurers who for the last 40 years have demanded nothing but the best and most versatile equipment for their expeditions. Whether you're an off-road aficionado, a seasoned camper, or a weekend warrior, this rooftop tent sets you free from the limitations of traditional ground camping. Its universal mounting system effortlessly attaches to most roof racks or cross bars, turning your trusty vehicle into the ultimate adventure rig in mere minutes. So wave goodbye to camping restrictions and say hello to unparalleled freedom and mobility on your journeys. With the Eezi-Awn Stealth Hard Shell Roof Top Tent, you are guaranteed to elevate your adventures to another level!
Safety is a top priority when venturing into the great unknown, and the Eezi-Awn Stealth has got your back. Its sturdy aluminum shell not only offers impressive impact resistance but also provides an additional layer of protection against those curious critters that roam the wilderness. With lockable latches and reinforced hinges, this tent ensures your belongings remain secure, allowing you to focus on chasing thrills and creating unforgettable memories.
CAN YOU HEAR IT? IT'S NATURE CALLING!
Picture this: you wake up to the first rays of sunlight piercing through the panoramic windows of your tent, revealing breathtaking vistas of untouched landscapes. Stepping outside onto the integrated awning, you stretch and breathe in the invigorating morning air. The world is your playground, and the Eezi-Awn Stealth is the key that unlocks its hidden treasures.
Fellas, the call of adventure is echoing in your ears, urging you to seize the moment and embrace the great outdoors. Whether you dream of conquering rugged mountains, venturing into uncharted territories, or finding solace on a secluded beach, the Eezi-Awn Stealth Hard Shell Roof Top Tent is the embodiment of freedom and discovery. Don't let life pass you by — embrace the thrill of the wild. Order your Eezi-Awn Stealth today and kick-start the adventure of a lifetime. Your journey awaits. Let's make every moment count!
A WOLF IN SHEEP'S CLOTHING
This bad boy may look simple and compact, but let me tell you, it's jam-packed with features that will blow your mind! The uniquely-shaped body not only houses your cozy bedding and a 3-inch thick laminated mattress but also cleverly stores the XKLUSIV Ladder right under the tent itself. Talk about convenience! But that's just scratching the surface of what the Stealth has to offer.
LET IT RIP!
When you crack open this adventure fortress, you'll be greeted by sidewalls made of super tough 260-gram Teflon-coated Polyester Ripstop Material. And that's not all, folks! These walls come equipped with double-entry privacy mesh panels, ensuring you can enjoy your personal space without any unwanted intrusions.
But let's not forget about comfort. The roof and floor of the Stealth are insulated, guaranteeing a pleasant night's sleep no matter where your journey takes you. Because let's face it, a true adventurer like you deserves nothing less than the utmost comfort, even in the most rugged environments.
DON'T WASTE MY TIME!
Now, here's where the Stealth truly shines - setup and takedown in a flash! No more wasting precious time struggling with complicated tent systems. It only takes a single person to unclip four latches and effortlessly lift the Stealth open. And when it's time to hit the road again, simply give it a gentle push down to close and lock. Voilà! In a matter of seconds, you're ready to continue your thrilling adventures. So, my fellow thrill-seekers, if you're looking for a rooftop tent that combines simplicity, durability, and lightning-fast setup, look no further than the Stealth. Get ready to conquer the unknown with style and ease. Adventure awaits, and the Stealth is your trusted partner in crime!
EEZI-AWN STEALTH QUICK FACTS
Extreme Weather Protection
 THE EXPERT OVERLANDER'S OPINION
I would take this tent on a worldwide expedition in any climate without hesitation. It is a heavier tent, so installing it high up on your rig might impact the vehicle's handling, especially if it's running on stock suspension.
Pros:
✅ Extremely Weatherproof 260g Teflon-coated Polyester Ripstop Fabric
✅ Quick To Set Up & Take Down
✅ Ladder Stores Cleverly Under Tent
✅ Comfortable Double-Size 3.15 Inches Thick Mattress
✅ Room For Storing Bedding Inside
✅ Insulated To Keep You Warm Year Round
✅ Eezi-Awn Is The Industry's Benchmark For Durability & Performance - It's as good as it gets!
EEZI-AWN STEALTH QUICK SPECIFICATIONS
Sleeping Capacity: 2 Adults
Closed Footprint: 87" (L) x 57" (W)
Closed Front Height: 6.5" (H)
Closed Back Height: 12" (H)
Open Front Height: 17" (H)
Open Back Height: 56" (H)
Body Material: 260-gram Teflon-coated Polyester Ripstop
Rainfly Material: n/a
Mattress Thickness: 3.15" Laminated
Fit Bedding Inside When Closed: Yes
Set up/Take Down Time: Less than 1 minute
Weight: 220 lbs
Weight Capacity: n/a
Warranty: 2-Year Limited
Full Datasheet: Download PDF
FAST & FREE SHIPING to the lower 48 states
We don't mess around with fine print and extra charges. Instead, we like things to be simple and easy for you.
Read more about the terms and conditions that apply in our Shipping Policy
30-Day Easy Returns
As experienced Overlanders, we fully understand that things do not always go according to plan.
That is why we offer you our "No Questions Asked" 30-Day Return Policy, so you can get back on the road for more adventures in a heartbeat.
Read more about the terms and conditions that apply in our Easy Returns Policy
We get it. You've got a lot of choices when it comes to online retailers, so why should you even bother spending your hard-earned bucks shopping with us?
Here are four short reasons why Open Road Overland is not like the rest of the bunch and why we believe that your shopping experience with us is not only 100% safe, but will also exceed your expectations, so you come back for more and maybe even bring your friends.
REASON #1: 100% SAFE & SECURE ONLINE SHOPPING
We use encrypted SSL security and are Level 1 PCI DSS compliant to ensure that your credit card information and every transaction on our website are 100% protected.
REASON #2: DRIVING THE WORLD SINCE 1998
We started overlanding in 1998, way before overlanding was even a term. Since then we have spent the last 25 years zig-zagging the planet trail testing the types of equipment you find in our store. In other words, we learned the hard way what works and what doesn't, through hands-on experience during our own adventures on 6 continents (yes, we still haven't made it to Antarctica). To ensure that we add value to your adventure with the products you shop with us, our policy is that nothing goes on our website before it has been thoroughly reviewed. This means that you will not find anything in our store that we would not bring along our use on our own overland adventures.
REASON #3: WE HAVE DRIVEN ALMOST EVERYTHING
Secondly, we have been driving almost any type of vehicle you can think of over the years. This means that we have acquired a strong skill set to answer any question you have concerning your own vehicle setup, no matter whether you drive a standard passenger car, a pickup truck, or a fully rigged 4x4 overlanding vehicle.
REASON #4: WE WANT EVERYBODY TO GO OVERLANDING
Thirdly, we strongly believe and promote that overlanding should be accessible to everybody, no matter what you drive, or what level of experience you have. That means that we can guide you as a novice overlander just starting out, as well as giving advice to you as an ultra pro with years of bushwhacking behind the wheel. That's why you will also see both entry-level products, as well as top-of-the-line gear on our site, so we can cater to everybody looking to elevate their own overland adventures. No matter what, you can rest assured that the products you find in our store are here because they do the job they were made to do.
WHAT ELSE DO I GET?
Apart from the above we of course also provide you with:
Free Shipping to the lower 48 states, with no extra charges. Ever!

Price Match Guarantee. Best prices online, guaranteed.

30-Day Easy Returns. Not happy with your product, we'll take it back no questions asked, and without charging you ANY restocking fee. Ever!

Great Service. We pride ourselves on the best service, anywhere.

Your Satisfaction Guaranteed. We handpick our products for quality to make sure you will love using them on your own adventures. But if there is ever something wrong, we'll fix it.