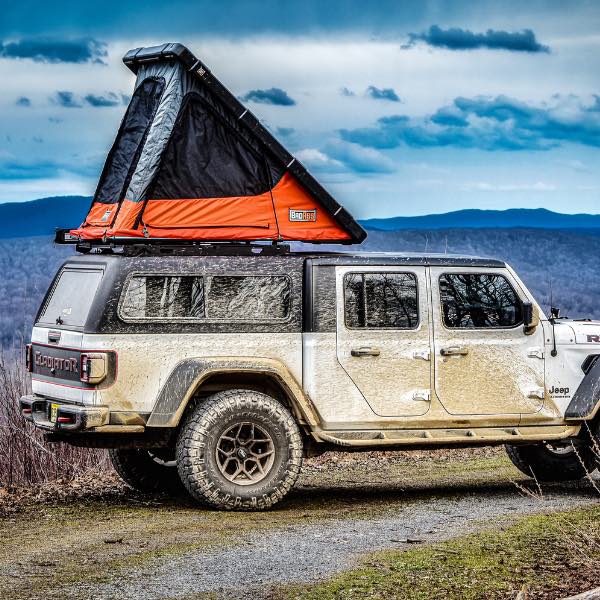 Badass Rugged Clamshell Roof Top Tent
Description

Shipping & Returns

Why Buy From Us
Lightweight And Quick To Pitch
The Rugged offers one of the best options in the market for weekend warriors or novice overlanders looking for a light (113 lbs) and low profile (4.85" tall) 2-person hard shell roof top tent of the Clamshell type. If you are worried about wind noise and drag, or if you are concerned about how a Roof Top Tent will affect your daily commute MPG performance, the Rugged will be the perfect fit for you and your vehicle. Due to the low profile design of the outer case and snug fit to the roof rack or cross bars, wind noise and drag will be minimal for this tent compared to traditional Roof Top Tents. The great news is that it is still large enough to sleep 2 adults and store your sleeping bags and the optional ladder inside when closed. 

It is never fun to sleep in a wet tent or to wake up soaked in the middle of the night. The waterproofing and three-season capabilities of the Rugged will be highly appreciated when you are out camping in bad weather. The included rainfly will elevate your experience and protect you from the elements, and as a bonus, it also provides additional shade for those hot sunny days. All you need to keep warm on those colder nights is a warm sleeping bag rated for temperatures below 40ºF. 

We all know that pitching a tent after a long day on the road can be downright annoying and the Rugged offers a great solution to this. Gas shock struts lift the tent to its open position in a heartbeat, so you can be in bed as quick as a flash, ready for another exciting overlanding adventure the following day! The 3 XL doors and full-sized zippered windows allow easy and quick access from three sides while providing plenty of ventilation on hot days and nights. The windows are mesh covered so when you don't need privacy, you can safely open them and still keep the mosquitos out where they belong, all while enjoying the great 270º views this tent offers.

The standard version of the tent is intended for shorter trips, but if you are planning to be on the road for more than a few nights and you need extra load space, the Rugged gives you the option to add top cross bars, so you can transport up to 75 lbs on top of the tent, perfect for fitting your solar panels, load your surf/SUP boards or carry any excess cargo. 

Rugged can be fitted to stationary campers and to any vehicle with a roof rack or cross bars that support 150+ lbs in transit. It is quality MADE IN THE USA and backed by a 3-year limited warranty. 

Comprehensive mounting hardware is included, but the optional cross bars and telescopic ladder must be purchased separately. You do this by selecting your preferred combination when ordering above.
Three Quick Questions For Carsten:
1. Who would be the happiest camper in this tent?
The Rugged is designed for medium size/height persons that are planning weekend getaways under milder weather conditions with temperatures above 40ºF. For those who are looking to have a tent permanently fitted on their daily commuter the Rugged is an excellent choice since the low profile of the tent will ensure that the impact to the MGP performance is kept at a minimum. It's thin, it's light, it looks great and it can be pitched in no time.

2. What are the best features of this tent?

The Rugged is super easy to pitch and will give you more time for the things you enjoy when you arrive at camp. It's lightweight, which means it won't affect the stability of your vehicle too much when driving a vehicle with standard suspension. People often forget that adding weight high up on the roof changes the vehicle's center of gravity making it more unstable. This is why you should ALWAYS check the load restrictions with the manufacturer before you install any gear on your vehicle.
The low profile of the Rugged adds very little extra height to your vehicle. This will allow most vehicles to pull into residential garages and parking structures without having to remove the roof top tent. However, you should ALWAYS check clearance before entering your home garage or other parking structures. It's not cool to start your adventure by damaging your vehicle, tent, or building.
3. Who would not be 100% satisfied with this tent out of the box?
I would say this would be people planning longer overlanding trips, especially if you are a tall person. Clamshell tents open in one end only so taller persons can sometimes struggle with foot space. The slim and lightweight design also comes at a cost in terms of internal space. With a sleeping width of 45" this is not a wide tent, so if you are planning to sleep in it non-stop for more than 2 weeks at a time, or if you are two larger persons, you might feel that the space is a bit cramped. If you are just yourself, this is not an issue. 

If you plan to sleep in the Rugged for more than a couple of nights, investing in a mattress upgrade like the Exped DUO M, or similar, is a good idea, as the standard sleeping pad will not cut it in terms of sleeping comfort. 

It is also my personal experience that the open-end triangular design of the Clamshell tents can be more sensitive to strong winds, making them noisier compared to Hard Shell Pop Up Tents and Scissor-type Hard Shell Tents. This is not a dealbreaker at all, but something to consider if you are a light sleeper.
Pros:
Clamshell tents are fast to pitch and take down

270º view through 3 massive windows 

The ladder and bedding/sleeping bags fit inside when closed

The low profile has low miles per gallon (MPG) impact

Insect mesh keeps the bugs out while offering good ventilation for those hot summer days and nights

Optional top crossbars to add additional load space
Cons:
Clamshell tents open in one end only so taller persons can sometimes struggle with foot space

Can be wind sensitive in strong winds when open due to triangular design

Does not come with a comfy mattress included, only a sleeping pad


Ladder not included
Don't miss out on the opportunity to upgrade your adventures. Order your Badass Rugged Clamshell Roof Top Tent today and go explore new places like never before!
Specifications
Manufactured: Made In The USA

Capacity: 2 Adults

Fabric: Heavy Duty 600g Nylon Oxford Fabric

Outer shell:  Aerodynamic Tactical Semi-Gloss Storage Case Styling

 Textured Plastic

Sleeping Pad: 1" Thick Thermal Regulating Pad (100% Recycled)

Mattress: Not Included

Window Insect Mesh: Yes

Top Crossbar (Optional) Weight Capacity: 75 lbs

Ladder (Optional): 8' Aluminum Telescopic Extension Ladder

Weight: 113 lbs

Warranty: 3-Year Limited Warranty

PLEASE NOTE: Ladder, Top Crossbars and Vehicle Not Included

FAST & FREE SHIPING to the lower 48 states
We don't mess around with fine print and extra charges. Instead, we like things to be simple and easy for you.
Read more about the terms and conditions that apply in our Shipping Policy
30-Day Easy Returns
As experienced Overlanders, we fully understand that things do not always go according to plan.
That is why we offer you our "No Questions Asked" 30-Day Return Policy, so you can get back on the road for more adventures in a heartbeat.
Read more about the terms and conditions that apply in our Easy Returns Policy
We get it. You've got a lot of choices when it comes to online retailers, so why should you even bother spending your hard-earned bucks shopping with us?
Here are four short reasons why Open Road Overland is not like the rest of the bunch and why we believe that your shopping experience with us is not only 100% safe, but will also exceed your expectations, so you come back for more and maybe even bring your friends.
REASON #1: 100% SAFE & SECURE ONLINE SHOPPING
We use encrypted SSL security and are Level 1 PCI DSS compliant to ensure that your credit card information and every transaction on our website are 100% protected.
REASON #2: DRIVING THE WORLD SINCE 1998
We started overlanding in 1998, way before overlanding was even a term. Since then we have spent the last 25 years zig-zagging the planet trail testing the types of equipment you find in our store. In other words, we learned the hard way what works and what doesn't, through hands-on experience during our own adventures on 6 continents (yes, we still haven't made it to Antarctica). To ensure that we add value to your adventure with the products you shop with us, our policy is that nothing goes on our website before it has been thoroughly reviewed. This means that you will not find anything in our store that we would not bring along our use on our own overland adventures.
REASON #3: WE HAVE DRIVEN ALMOST EVERYTHING
Secondly, we have been driving almost any type of vehicle you can think of over the years. This means that we have acquired a strong skill set to answer any question you have concerning your own vehicle setup, no matter whether you drive a standard passenger car, a pickup truck, or a fully rigged 4x4 overlanding vehicle.
REASON #4: WE WANT EVERYBODY TO GO OVERLANDING
Thirdly, we strongly believe and promote that overlanding should be accessible to everybody, no matter what you drive, or what level of experience you have. That means that we can guide you as a novice overlander just starting out, as well as giving advice to you as an ultra pro with years of bushwhacking behind the wheel. That's why you will also see both entry-level products, as well as top-of-the-line gear on our site, so we can cater to everybody looking to elevate their own overland adventures. No matter what, you can rest assured that the products you find in our store are here because they do the job they were made to do.
WHAT ELSE DO I GET?
Apart from the above we of course also provide you with:
Free Shipping to the lower 48 states, with no extra charges. Ever!

Price Match Guarantee. Best prices online, guaranteed.

30-Day Easy Returns. Not happy with your product, we'll take it back no questions asked, and without charging you ANY restocking fee. Ever!

Great Service. We pride ourselves on the best service, anywhere.

Your Satisfaction Guaranteed. We handpick our products for quality to make sure you will love using them on your own adventures. But if there is ever something wrong, we'll fix it.